Author Archives for admin
Our template platform will maximize the exposure of your inventory online
Not categorized

Posted by

admin
Reacties uitgeschakeld

voor 2009 Porsche Carrera 4S Turbo Convertible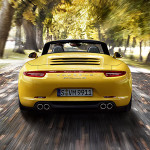 Open-top driving is integral to Porsche history. It began back in 1948 with the No. 1. The convertible variant of the first 356 became a legend, as did its descendent, the Porsche 550 Spyder. In 1982, the first 911 Carrera model in cabriolet form was introduced to the road.
Two things that all open-top Porsche cars have in common are an urge for sporty acceleration and unlimited driving pleasure. The time has come to carry this tradition on into the future. The 911 Carrera S Cabriolet does just that.
That explains what motivates us; so let's describe what drives the car: the 3.8-litre engine with direct fuel injection (DFI) and VarioCam Plus, which produces 400 hp at 7400 rpm. The 911 Carrera S Cabriolet completes the sprint from 0 to 60 mph in just 4.5 seconds and reaches a top speed of 187 mph.
Without question, the 911 Carrera S Cabriolet has remained faithful to [...]